Add your review
Reef Frenzy
Reef Frenzy
THE ORIGINAL BLEND WHICH PUT US ON THE MAP!
Reef Frenzy® has all the nutrients needed to feed your entire reef aquarium in one 8 ounce package. There are other blended foods on the market but NONE of them compare to Reef Frenzy® when it comes to freshnes Read more
Description
*Pet Central - we've personally found that using the frenzy blends with the Two Little Fishies Magnet Feeding Clip is a perfect combination and allows the fish to develop a Pavlovian 

response to the clip. Watch as your fish start to come right to the clip and the food right off of it. Less waste - healthier fish.
THE ORIGINAL BLEND WHICH PUT US ON THE MAP!
Reef Frenzy® has all the nutrients needed to feed your entire reef aquarium in one 8 ounce package. There are other blended foods on the market but NONE of them compare to Reef Frenzy® when it comes to freshness, cleanliness, purity of ingredients, and feeding response. 
LRS Reef Frenzy® ingredients:
Fresh Wild Caught Scallop, Fresh Wild Caught, Hand Peeled Shrimp, Fresh Wild Caught Ocean Perch and Whitefish, Premium Piscine Energetics Mysis Shrimp, Squid, Euphausia pacifica krill, Fresh Shucked Oysters and Clams, Zooplankton and Rotifers, Seaweed (Porphyra), Blanched Broccoli Flowers (Rich in Vit A&D), Oyster Eggs and Ovarian Tissue, Highly Unsaturated Fatty Acids, Buffered ascorbic acid added as an antioxidant, D. salina algae (Beta carotene to boost pigmentation, immunity)
LRS Probiotics (Learn about them HERE)
All of the fresh ingredients listed are free from any phosphate rinses and sourced at the Carolina Coast.
Marine Biologists, aquaculture labs, experts in the hobby, and hobbyists all over web forums and Facebook are describing Reef Frenzy as:
"The freshest, cleanest and BEST reef aquarium food I've ever used." 
The superior Fatty Acid profile of our foods clearly demonstrate why breeders and so many others report increased health, vigor and color of their livestock.
​​See the photos of our raw ingredients HERE
STILL NOT CONVINCED?
Watch this video and see for yourself how clean the food is when it hits the water and how the fish chase down every morsel!
YOUR CORALS WILL REWARD YOU WITH INSANE POLYP EXTENSION!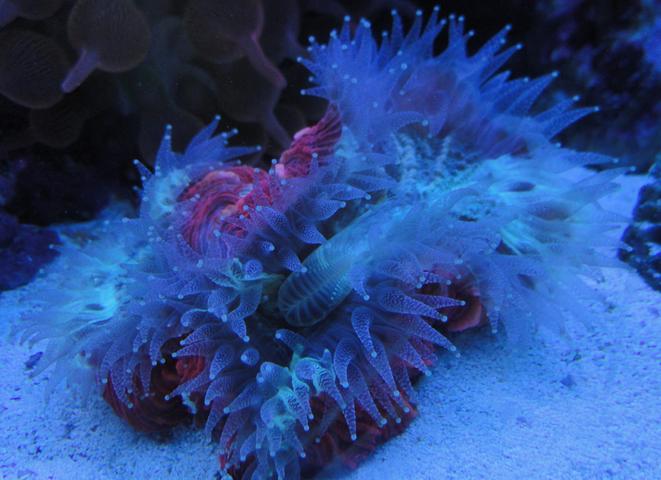 0
stars based on
0
reviews